North Central deans share stories, life lessons
During a fall chapel series, the deans of North Central's undergraduate colleges spoke in four separate chapels to share heartfelt messages with the campus. Through stories, life philosophies, and biblical wisdom, the deans demonstrated the heart of what students experience daily in their classes.
Three of the four deans are new to their roles and the series provided an opportunity to for students outside of the deans' specialty areas to get to know them better. Watch the video below or keep reading for some of the highlights from The Dean Series. The full audio is also available on our chapel page.
Meet the North Central college deans
College of Arts and Sciences
Dean Desiree Libengood, Ed.D., spoke on Sept. 17. According to Libengood, the goal of the College of Arts and Sciences is to prepare world-ready students for an unknown future. "If we prepare you to be world-ready," Libengood said, "you'll be ready to pivot as things change."
Libengood pointed out a major component of being world-ready: learning how to love your neighbor. She referenced Galatians 5:13–15, "For the whole law is fulfilled in one word: 'You shall love your neighbor as yourself.'  But if you bite and devour one another, watch out that you are not consumed by one another" (ESV), and noted that if we are part of those in society who "bite and devour," we aren't loving our neighbors.
"I believe our neighbor is everyone," Libengood said. "As a Christian we have no geographic boundaries. 'Love your neighbor' is stronger than divisions of race, gender, and politics. The Kingdom is for everyone…. The world is a broken place, but we can seek to fulfill His Kingdom here on earth as it is in Heaven."
College of Business and Technology
"What am I called to do?" Dean Bill Tibbetts, MBA, of the College of Business and Technology began with a question for the students gathered for chapel on Sept. 18. "This summer I had a watchtower moment, when the Word elevates you above the tree line and you get to look at the journey you've been on, and say, 'Lord, thank you.' But you also get to look into the future and you're just filled with hope. Then He drops you down into the forest and says, 'Go.'"
Tibbetts chronicled his powerful journey from his salvation as a teenager into his college years and early career. Six months after he landed his dream job as a journalist with a major newspaper, he left. "I couldn't understand how working at the newspaper had any Kingdom impact.
His conflict led him to God's Word for answers, and through his study, Tibbetts discovered four lies he had adopted:
That God was more interested in the soul than in the body or mind.
That to live a radical, sold-out life for Christ meant that I need to sell everything and move somewhere.
That life is divided between two categories, the sacred and the secular.
That because of the nature of their work, ministers and other clergy were more important to God's program than the laity.
For each of the lies he discovered, Tibbetts also found a correlating truth, and ultimately landed on a new question. Instead of "What am I called to do?" or "What am I passionate about?", Tibbetts suggested to ask instead: "Where is there a need and how can I help?"
College of Church Leadership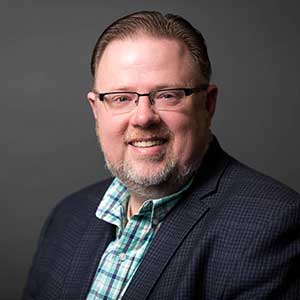 Dean Allen Tennison, Ph.D., introduced himself on Sept. 26 as the new dean of a newer college. Explaining the College of Church Leadership's (CCL) origins as the coming together of three other colleges, the naming of the college became job one at its inception.
"One of the biggest discussions was, "What do we call ourselves?" Tennison explained. "We had a large discussion and settled on the phrase, 'Church Leadership.' We didn't want to call ourselves the College of ministry, because we believe that's true for everyone at North Central University; we don't have the corner on ministry. We decided to call ourselves 'Church Leadership' because we wanted to focus on those who were called to lead Christian communities as disciple-generating communities."
Tennison shared four key values of the CCL, stewardship, excellence, resilience, and faithfulness, emphasizing especially faithfulness. "When I say faithfulness," Tennison said, "I mean faithfulness to the Word of God—to minister and lead within the boundaries of God's character."
Flowing naturally from these values is leadership, and Tennison spent the remainder of his time highlighting good and bad leaders from the Bible and sharing lessons under the title, "How to avoid becoming a bad leader." Here's a summary of his three points:
Don't take advantage of your position; take care of your responsibility.
Don't take the credit and shift the blame; share responsibility and take the blame.
When we take over a responsibility that God entrusted to someone else, we aren't replacing them, we're actually trying to replace God.
College of Fine Arts
Dean Larry Bach, M.M., of the College of Fine Arts, wrapped up The Dean Series on Oct. 11 and titled his talk, "What I Wish You Knew." The 38-year veteran North Central professor shared from his heart about his journey from being a driven, "Type A" person who was always going for it, who liked to win and didn't like to lose—even after he became a Christian in college—until he was stopped in his tracks by cancer during an academic sabbatical. "I had cancer so rare—lung cancer in my leg—I never get anything right," Bach said in jest. But he was serious in sharing how pivotal that moment was in his life.
"I remember saying to God, 'I want to live and I want to give," Bach recalled, "and I left that time much different than I went into it. I started realizing that true success is not in what you do; true success is in who you are."
After calling members of the music faculty to the stage to be his band, Bach sang "Live Like You Were Dying'" by Tim McGraw (which he noted would be the first and only country song he'd ever sing). He followed up the tips in the song with some suggestions of his own.
There are two kinds of relationships that are important, Bach told those gathered in chapel. The first is to have a great relationship with God, remembering that He is the King of kings and the Lord of Lords. "I will sing praises to God because He has been good to me," Bach said. "If we could look at the big picture, would we be encouraged or discouraged in our relationship with Almighty God?"
The second is "that kind of friend" relationship. "If you were living like you were dying," Bach admonished, "here is what I would want you to do:
Forgive one another.
Encourage one another.
Pray for one another."